"Some say our State did not Secede. ...If she did or if she didn't we'll have her anyhow. Let us alone, we'll do the same, that is the Southern rule. If that won't do we'll pack the State down South on Shelby's Mule...Shout Boys, make a noise, the Yankees are afraid. That something's up and hell's to pay when Shelby's on a raid." -lyrics of "Shelby's Mule" (Confederate Song from Missouri)
Charge to the Sons of Confederate Veterans
"To you, Sons of Confederate Veterans, we submit the vindication of the Cause for which we fought; to your strength will be given the defense of the Confederate soldier's good name, the guardianship of his history, the emulation of his virtues, the perpetuation of those principles he loved and which made him glorious and which you also cherish. Remember, it is your duty to see that the true history of the South is presented to future generations."

--Lt. General Stephen Dill Lee, Commander General United Confederate Veterans, New Orleans, Louisiana, 1906.

| | |
| --- | --- |
| "In all their motley array there was hardly a uniform to be seen, and then, and throughout all the brilliant campaign on which they were about to enter there was nothing to distinguish their officers, even a general, from the men in the ranks, save a bit of red flannel, or a piece of cotton cloth, fastened to the shoulder, or to the arm, of the former. But for all that they were the truest and best of soldiers. Many of them, when just emerging from endured to the dangers and privations of the wilderness; and many had engaged in the hot strife which had ensanguined the prairies of Kansas." | |
"Among them there was hardly a man who could not read and write, and who was not more intelligent than the great mass of American citizens; not one who had not voluntarily abandoned his home with all its tender ties, and thrown away all his possessions, and left father and mother, or wife and children, within the enemy's lines, that he might himself stand by the South in her hour of great peril, and help her to defend her fields and her firesides. And among them all there was not a man who had come forth to fight for slavery."

- Thomas L. Snead, on the Missouri State Guard in his book, Fight For Missouri.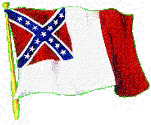 "I salute the Confederate flag, with affection, reverence, and undying devotion to the Cause for which it stands. "
(The "Cause" of the average Confederate soldier was not slavery, but the defense of family, home, the rights and loyalty owed to one's native State. The importance of principles of State's rights remains today as represented in the U.S. Constitution and the maintenance of powers to the U.S. Senate. Note: Although we are an international organization, with camps abroad, the majority of our members are patriotic U.S. citizens. As such, each meeting of the Sterling Price Camp also begins with the pledge of allegiance to the U.S. flag.)
Do you think Missouri seceded from the Union? You might be surprised by what you'll find out!
See for yourself!
Copyright 2003-2006 Sterling Price Camp, No. 145 St. Louis, Mo.

Contact Webmaster if you have any comments/suggestion regarding this website.