General Robert E. Lee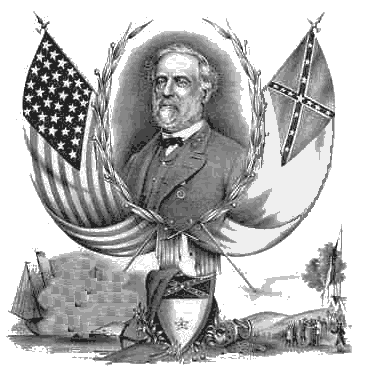 Our tribute to one of the greatest Sons of the South


  Forth from its Scabbard, pure and bright,
Flashed the sword of Lee!
Far in the front of the deadly fight,
High o'er the brave in the cause of Right,
Its stainless sheen, like a beacon light,
Led us to Victory!
Out of its Scabbard, where, full long,
It slumbered peacefully,
Roused from its rest by the battle's song,
Shielding the feeble, smiting the strong,
Guarding the right, avenging the wrong,
Gleamed the sword of Lee!
Forth from its scabbard, high in air
Beneath Virginia's sky -
And they who saw it gleaming there,
And knew who bore it, knelt to swear
That where the sword led they would dare
To follow - and to die!
Out of it's scabbard! Never hand
Waved sword from stain as free,
Nor purer sword led braver band,
Nor braver bled for a brighter land,
Nor brighter land had a cause so grand,
Nor cause a chief like Lee!
Forth from its scabbard! How we prayed
That sword might victor be;
And when our triumph was delayed,
And many a heart grew sore afraid,
We still hoped on while gleamed the blade
Of noble Robert Lee!
Forth from its scabbard all in vain
Bright flashed the sword of Lee:
'Tis shrouded now in its sheath again,
It sleeps the sleep of our noble slain,
Defeated, yet without a stain,
Proudly and peacefully!
Farewell to the Army of Northern Virginia
 

General Lee's Surrender at Appomattox Courthouse
Headquarters Army of N. Va. April 10, 1865
General Orders, No. 9

After four years of arduous service marked by unsurpassed courage And fortitude, the Army of Northern Virginia has been compelled to Yield to overwhelming numbers and resources. I need not tell the brave survivors of so many hard fought Battles, who have remained steadfast to the last, that I have consented to this result from no distrust of them. But feeling that valor and devotion could accomplish nothing that could compensate for the loss that must have attended the continuance of this contest, I determined to avoid the useless sacrifice of those whose past services have endeared them to their countrymen. By the terms of the agreement, officers and men can return to their homes and remain until exchanged. You will take with you the satisfaction that proceeds from the consciousness of duty faithfully performed, and I earnestly pray that a merciful God will extend to you His blessing and protection. With an unceasing admiration of your constancy and Devotion to your country, and a grateful remembrance of your kind and generous consideration for myself, I bid you all an affectionate farewell.

R.E. Lee, General