Capt. William H. Wiseman,
Co. G 43rd Tennessee Infantry CSA
Ancestor of Dale Wiseman, Sterling Price Camp, No. 145, St. Louis, Mo.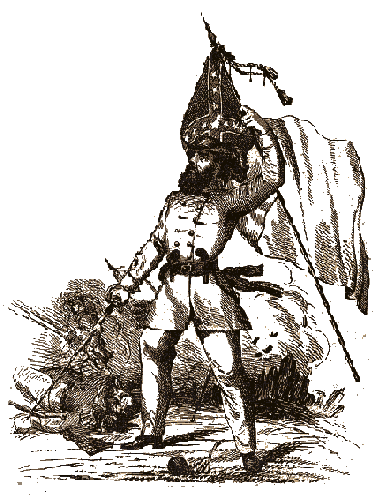 Lithograph Published by George Dunn & Co., 1863 Richmond, Va.
Tennessee State Flag
Descendants of the 43rd Tenn, CSA

William H. Wiseman enlisted in Company G, Forty-Third Tennessee Infantry at Mosby Creek, Knoxville, Tennessee on October 19, 1861. This regiment was raised by the Hon. JamesW. Gillespie, of Rhea county, and Assistant Adjutant General under Governor Harris. The regiment was mustered into Confederate service on November 24,1861 and Wiseman was elected Lieutenant of company G under Captain James Neff. The regiment did guard duty at the bridges along the East Tennessee, Virginia, and Georgia rail line during the winter and spring of 61-62. The regiment was re-organized in May and Wiseman was elected Captain of company G.

After several months of extensive drilling at Charleston, the regiment joined General Bragg at Mt. Sterling, Kentucky. The ladies of Mt. Sterling presented the Forty-Third Tennessee with a beautiful stand of colors. They participated in all of Bragg's Kentucky Campaign and after retreating from that state they were transferred to Vicksburg, Mississippi. Here they were assigned to Reynold's Brigade of Stevenson's Division and saw action against General Sherman at Chickasaw Bayou. They spent the winter at Warenton, ten miles south of Vicksburg, building fortifications and drilling. On May 1st they were ordered to Port Gibson to reinforce General Bowen but arrived too late to take part in that fight. They saw action at Baker's Creek and served as the rear guard on the retreat to Vicksburg.
On the night of June 21st, Captain Wiseman led his company on an assault on an entrenched outpost in front of their lines. They took the position but were forced back by an overwhelming counter assault. Captain Wiseman was wounded in the arm and half of his men were casualties. The Forty-Third Regiment entered Vicksburg with more than nine hundred effective men. After forty-seven days, when the regiment was paroled, less than half answered the roll call. The silk flag, given to them by the ladies of Mt. Sterling, had nine hundred and seventy-two bullet holes in it when it was surrendered on the 4th of July.
In December the regiment was given horses and served as mounted infantry until the end of the war. In May 1864, the brigade was ordered leave their horses in Southwest Virginia and report to Brig-Gen. W.E. Jones, at Staunton, to repel General Hunter's advance up the valley. They met General Hunter at Piedmont and defeated him so badly that he retreated into the mountains and hid there for the rest of the war. In June, the regiment joined General Jubel Early on his celebrated raid on Washington and afterwards the campaigns in the Valley of Virginia. They saw action at Monocacy, Winchester, Kernstown, Fishersville, Cedar Creek, White Post, Martinsburg and Darksville. During this campaign Captain Wiseman was captured at Woodstock, Virginia (as he shows up on the hospital records of Fort Delaware Prison on September 29, 1864. He again is listed as being admitted to the hospital on January 16,1865 and again on May 25, 1865. He was discharged from the hospital for the last time on June 13, 1865. It's unknown at this time when he was released, but all the prisoners at Fort Delaware were gone by July 1865.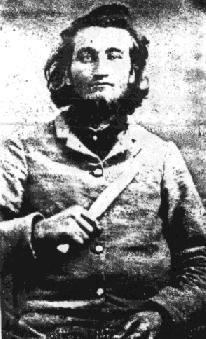 By coincidence, Dale Wiseman's wife also had ancestor in Co. G 43rd Tennessee infantry. His name was Sgt. Andrew Russell Denton, pictured here holding a bowie knife. He was the son of Joel R. and Mary Craig Denton, born abt. 1839 at Strawberry Plains, Jefferson County, Tennessee . Sgt. Denton was wounded on June 22, 1863 and died of wounds on June 26 at Vicksburg, Mississippi. Sgt. Denton had married Martha E. Palmer on Jan 4, 1862 but he never got to see his only child, Hulbert Webb Denton, born November 8 of that very same year.

Background Tune:
"Sweet Evelina"
Written 1863, Music by Mrs. Parkhurst.
Became a popular tune during the war.

Way down in the meadow where the lily first blows,
Where the wind from the mountain ne'er ruffles the rose;
Lives fond Evelina, the sweet little dove,
The pride of the valley, the girl that I love.
CHORUS

Sweet Evelina, dear Evelina,
My love for thee shall never, never die.Dear Evelina, sweet Evelina,
My love for thee shall never, never die.2.
She's fair as a rose, like a lamb she is meek,
And she never was known to put paint on her cheek;
In the most graceful curls hangs her raven-black hair,
And she never requires perfumery there.
(CHORUS)

Evelina and I, one fine evening in June,
Took a walk all alone by the light of the moon;
The plants all shone for the heavens were clear,
And I felt round the heart, oh! most mightily queer.
(CHORUS)

Three years have gone by and I've not got a dollar,
Evelina still lives in the green valley holler,
Altho' I am fated to marry her never,I'll love her I'm shure for ever and ever.
(CHORUS)
Copyright 1999, Sterling Price Camp, No. 145