JAMES HADDOCK YATES (1838-1917)
1st and 2nd Missouri Infantry, CSA
Excerpted from "James Haddock Yates: a Confederate Private in the Civil War"

Compiled and written by Patricia SummersSmith, (Great-Grand Daughter), 1995 Background tune, "The U. C. V March", composed in 1901 by Theo. H. Northrup,
respectfully dedicated to the United Confederate Veterans.
Midi file courtesy of Benjamin Tubb. (midi webpage).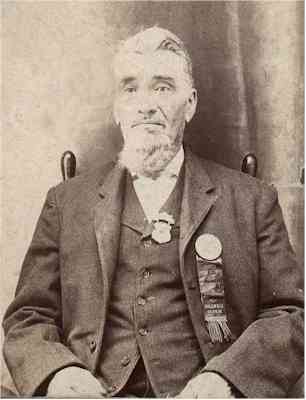 James Haddock YATES was among the first Missourians to take an active role when the Civil War reached Missouri. He was twenty-three years of age when trains with Union troops began arriving in Missouri in July 1861. Then on July 20, 1861, Missouri ruled under martial law for the next three years without a free election or a vote except from those deemed 'loyal' by a non-elected provisional government. Ten days after martial law was declared, the Missouri State Guard officially organized 30 July 1861. James joined Bruce's Regiment in the Missouri State Guard, serving in Co. G, and he was probably with that regiment when he fought his first battle of record for the Confederate cause at Lexington MO in 12-20 September 1861. The Confederates won an overwhelmingly victorious battle against the Union troops. On November 25, 1861, General Price told his men that the Confederate government would receive into service as many troops from Missouri as would volunteer to serve twelve months. So, on the Sac River in St. Clair Co., 9 December 1861, James enlisted in the Confederate Army as a private under General Sterling Price and agreed to serve twelve months. Before the war was over, that twelve months had extended into more than three years. He is recorded as serving from September 1861 to December 1864. His name then later appears on the Historic Roll of Co. B., 2 Reg't Missouri Infantry, dated 28 February 1865.
He served under Capt. Burbridge in Co. B, 1st Missouri Infantry, latterly known as Co. B, 2nd Missouri Infantry, C.S.A. James stated on his pension application that he participated in the battles at Lexington MO, Pea Ridge, Grand Gulf, Vicksburg, West Bridgeport, and Mobile at the time of surrender -- "eight hard battles and 37 battles in all -- four long years." His commanding officers were: Co. B. Captains Bankhead and after that Capt. John Wells, with regiment infantry Col. E.B. Hueo. James also lists a Lt. Jos. L. Duncan.
The record states that James engaged in battles at: Farmington MO, 4 July 1861; Lexington MO, 12-20 September 1861; Elkhorn (Pea Ridge AR), 7-8 March 1862; Iuka MS,19 September 1862; Corinth MS, where he was wounded, 3-5 October 1862; Hatchie Bridge (________); Grand Gulf, 17 April 1863; Bakers Creek MS, 16 May 1863; Big Black MS, 17 May 1863; Vicksburg MS, 4 July 1863; Westport MO, 23 October 1864; and in the Georgia campaign.
He was among those Confederate soldiers captured at Vicksburg on 4 July 1863 and was taken by the Union army as a prisoner of war. He was paroled three days later, after signing an oath in which he promised not to take up arms again until "duly exchanged by the proper authorities." When the oath was presented to him to sign on 6 July 1863, "J.H. Yates" was the soldier's name that the Union had affixed on the document they prepared for his signature. He penned the signature -- "John H. Yates" -- the name of his younger brother. His brother, John Zedlock H. Yates, was indeed loyal to the Union, and would certainly not have taken up arms against them. For he and James had taken opposing sides in the Civil War. In fact, his brother John had joined the Union army earlier that year on 16 March 1863. James was paroled the next day, on 7 July 1863, and continued to fight for the Confederate cause.
The following year, he was captured 30 October 1864 in Butler Co. MO and taken to Louisville KY where he was imprisoned. After two weeks in prison, he signed an Oath of Allegience to the Union on 15 November 1864 and was released north of the Ohio River on the condition that he stay there and not take up battle again. No record of his whereabouts can be found during the year that followed, between 15 November 1864 and 16 November 1865. He was released north of the Ohio River, and perhaps he stayed there until the war was over. He had uncles and cousins in KY and may have gone there to visit family. His military record contains no further information as to his whereabouts for the remainder of the war. His name then appears on the Historic Roll of Co. B., 2 Reg't Missouri Infantry, which was dated 28 February 1865.
James Haddock Yates was born in Shelby County, Kentucky, on 20 October 1838. In 1851, his family moved to Audrain County, Missouri. He was twice married and had nine children, eight of whom survived into adulthood. After the war, he lived in Montgomery, Pike and Lincoln counties in Missouri. He died on 4 November 1917 in Louisiana, Pike County, and is buried in Winfield Cemetery, Lincoln County, Missouri.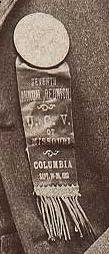 Yates' U.C.V. badge.

(United Confederate Veterans)